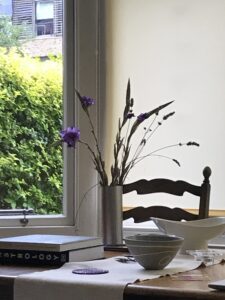 I might have put these dying flowers in the garden bin days ago. But something stopped me each time. As I carefully removed the drooping withered flowers, still a few possibilities remained from their un-budding into full boisterous bloom. Now they were close to the end but somehow they communicated to me that they still had more to give, that they wanted  time to experience their whole life cycle.
It was as if they said to me, 'no not yet – let us stay a little longer'
It's my pattern I think, I find it hard to let go of things if there is still a Chance, a hope of life continuing. And isn't there always still a Chance?
Until there's not of course
So how do we know when it's time to let something go? A musing of this morning brought into being by seeing these flowers, and by being suddenly housebound because of a Covid contact. Time to muse, time to set down some words, to give voice to memories and to allow whatever forms to flow.
The thoughtful meandering brought me back to my beautiful friend Ro. It's nearly her birthday – all the goddess qualities of Virgo so visible in her – but its nearly 5 years since she left this life, c/o Cancer of the Oesophagus. And I realised that being with something, or someone, or a relationship, or a life phase, in its process of dying brings beauty if we give ourselves the chance to see it. As life ebbs away then something might reveal itself. For Ro, who had experienced such weight gain from over drinking and overeating to numb the pain of her past, it was in the dropping of weight. There was a point where she expressed how fully in her physical beauty she felt – and she was ALWAYS SO beautiful – but in her shedding of protective layers, she felt like the actresses who had the type of body that she wanted to inhabit. It might be cruel to realise it was the affects of cancer that brought about this transformation but in that brief moment Ro was in her full power, energised, excited and sharing it with me. It was real, viscerally and powerfully real.
As I write I am receiving memories of other loved ones, and their moments of beauty and vitality while in this process of dying. I feel such strange gratitude for these flowers on my table today. Do they know how they are moving me? In this dialogue of connection, I feel such heartfelt gratitude for the strength I found to be with my friend as she went through the terrors on her journey. And I feel an openness occurring somewhere across my chest and my neck, that wants to say 'you can do this for yourself too.'
There are no simple answers to any of our big questions of when to let go, when to give up, when to continue and whether the hope is truly directed. There is though, the possibility of living through our own processes alongside others who are also in-process. The answers unfolding and taking shape in their own time, not forced, and not hurried. Two decades ago, a very clever work colleague who was also a linguist told me of the French saying:
'Plus ca change, c'est plus la meme chose'
Immediately I recognised the life changing power in those words. It took me those decades to live into their meaning though…. 'The more things change, the more they stay the same'
Change is inevitable, change itself being the continuity of things. That things change because they continue, because we live through their life cycle, co-creating what the changes might look like. It requires us to be brave enough to stay while the dying happens, and then of course there is the grieving. Beyond that threshold there is the possibility of new life, of new understanding, of transformation that could not have come into being any other way. We must be careful with our energy, holding on to things that are already leaving will deplete our beautiful body. But we can be a willing witness to the beauty of life as it comes to its physical and material end. This doesn't make the territory less tough, but it will promise us a soft quiet bed to rest in at the end of it all. The softness and quietness of having been with something that mattered so much to us that we willingly gave the energy to bear its ending….