I am offering 1-2-1 and group sessions for anyone interested in the embodied approaches of Body-Mind Centering. Since the COVID situation which affected us all in March 2020, I have been delivering sessions online (via Zoom) and, where legal and safe, in person with social distancing measures. From the beginning of May 2021 it should be possible to arrange in person sessions whch will take place in my dedicated Movement Space in Marchmont, Edinburgh. If your motivation is for more ease in your body, or a deeper sense of embodied awareness, or for more enlivened creative expression, I would be delighted to offer my knowledge to support and facilitate your own journey.
For more information, or to discuss whether Body-Mind Centering might be beneficial for you, please contact me by email at: debbie@yetproject.com
Accreditation and recent professional experience
Debbie Allan is a somatic movement educator (SME) working with movement and embodiment practices to help individuals wake up their inherent capacities for good health and wellbeing. She graduated with an MSc in Dance Science from the Trinity Laban Conservatoire in 2009 and went on to study Body-Mind Centering® (BMC®) in the UK and France, graduating as an accredited somatic movement educator in 2013. She is a professional member of the Body-Mind Centering® Association in California and has studied with, and assisted, the founder of the work, Bonnie Bainbridge Cohen.
Debbie is interested in the blend of Science (objective understanding of biomechanics, psychology, anatomy and physiology) with Somatics (subjective inner awareness, rhythms and impulses unique to the individual) as a pathway towards greater ease and joy.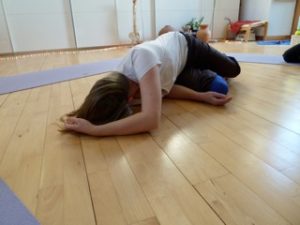 IS BODY-MIND CENTERING FOR YOU ?
One of the key ways in which Body-Mind Centering can support anyone is in the area of Postural Alignment. Moving into an embodied awareness of our own unique postural alignment is the opposite of the old fashioned way of thinking about good posture, and needing to 'impose' an 'ideal' form. Dynamic healthy postural alignment is an enlivening and surprising process of discovery and recovery. These sessions focus on skeletal alignment and breath motion as the basic underlying support for our body to find comfort, ease and healing. Our muscles often work against us, pulling the bones away from a natural easeful alignment; as we find the clarity of our bones and their innate response to gravity, it becomes possible to organically repattern. We begin the process of releasing long habituated holding patterns that may have built up in response to life events. Our bones also provide the underlying architecture for all body structures and functions: well aligned bones lead to well aligned blood vessels, nerve pathways, lymphatic vessels, glands, organs, and muscles! In terms of breathing it is possible to identify and release holding patterns in the area around the lungs and heart – the muscles of the ribs, shoulders and upper arms often create so much tension leading to a caged-in, rather than flight-ready feeling. When we open to more natural, full and free breathing – we find it is the very basis of all healthy human functioning.
But there are many ways in which we might explore together. As a general guide, I would lead you through a process that involves some or all of the following:
Guided visualisation to help you relax and quiet down the busy thinking brain. We do this so that it becomes possible to 'hear' our body's signals
Hands-on listening and responsive touch (where Covid restrictions allow) to help with structural awareness and to support and encourage repatterning
Ongoing dialogue so that your unfolding experience and embodied feedback is fully integrated into the direction of the session
Relevant movement practices that may be done sitting, standing, lying on the floor and moving through space
Sharing of images and anatomical knowledge to support you as you begin to inhabit (embody) more of your inner body landscape
Recommendation of movement patterns and sequences which can be practiced at home – in easeful, enjoyable and exploratory ways