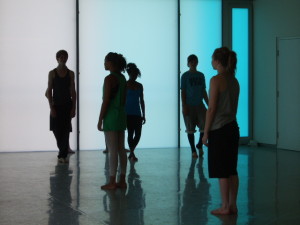 Somatic Embodiment is a way of learning to listen to our own unique rhythms and impulses, to allow them to show and tell us what is lying under our conscious awareness. When we waken up, and begin to dialogue with, our own body's intelligent knowing, it leads us home. The body being our first home – one that we carry everywhere with us. It somehow seems such a waste to be told about that body from others – what it needs or doesn't, how it should move or not, what is right or wrong about it, instead of discovering and uncovering it's beauty, wisdom and healing from the inside out,
My approach is co-creative; I bring my own learning and journeying in body-mind centering and my knowledge and experience from dance science, and together we explore, experiment and discover the possibilities which open up when we work this way. Here are some recent and current examples of working with individuals and groups, in both therapeutic and artistic settings:
One-to-one clients of all ages and levels of movement experience who want support with a health concern, an injury, a postural issue, pain, or who have a desire to learn about the embodiment process
LIFT Participatory cross-arts project for Creative Learning in Aberdeen: working with groups of people (mixed age/gender) who all had a mental health diagnosis and groups of women and  mothers who were living in areas of deprivation, offering movement experiences designed to empower through coming together in an arts environment, learning new skills and ways towards greater wellbeing
Curious Seed Performance Company – working with the dancers on MamaBabaMe to waken up and explore early childhood movement patterns so that they were able to draw on their own embodied memory of being a baby, toddler and child in the performance
Rambert School of Ballet and Contemporary Dance, facilitating workshops for the first year students focusing on embodied practice to support their physicality, creativity and performance quality
If you would like to discuss how Somatic Embodiment might fit with your own setting  please get in touch.  Contact details are on the About page and you can find lots of  further reading about BMC and Dance Science on the Info & links page.